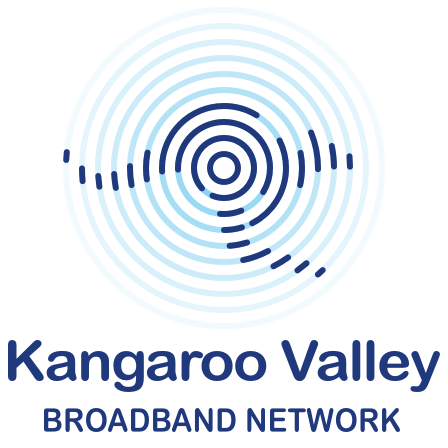 The man behind KVBN
John Sinclair is the man behind KVBN. John has been providing IT services for 15 years.
When John first came to the valley 12 years ago, as well as providing IT support, he also offered internet connections. He currently runs a small Internet Service Provider called Gungaru with customers in the Valley and in the Highlands.
Because John is the first person people call when their internet fails, he is very aware of the network problems in the valley and he has been mulling over this for some time. John has seen the frustration of residents of his home town firsthand.
Why the need for KVBN
KVBN is a grass roots family enterprise that has arisen because of the needs of the community.
Internet access has become an essential part of our lives... at work, at home; for social media, researching, email, EFTPOS machines in our shops, accounting, making appointments, television, telephone, games ... the list goes on. However, like many rural communities, Kangaroo Valley is poorly served by Australia's NBN and telecommunications providers.
Complaints to the Telecommunications Industry Ombudsmen (TIO) about the internet increased in 2017 by 117.5% nation-wide
The situation has been, and is currently, frustrating in the extreme. Every household situation is different and the different fingers of the Valley are such that one tower and mobile phone technology is insufficient.
The alternative 'satellite' is too slow and too erratic to properly serve the Valley. It's clear that we are small fry, not on the radar of the big centralised providers who are only interested in Australia's major population centres.
The NBN has come and gone and there is only one tower in Kangaroo Valley. While this serves the village, it leaves a large number of residents beyond with access to satellite services only. Some other areas 'enjoy' an ageing, slow and unreliable ADSL1 network or a mobile broadband dongle sticky taped to the top left corner of a window!
It's doubtful there will ever be a national solution that will meet Kangaroo Valley's needs, so we must act together to create our own solution.
The Solution
Luckily a solution is within our grasp.
A few (up to 10 or 12) well placed towers would give access to about 90% of residents.
These would be linked via radio over Cambewarra Mountain to Nowra where a fibre optic connection would link us to the core internet in Sydney. Later, once the larger network is established we would deploy micro-pops - very small towers - to serve those nooks and crannies that are really out of the way.
The Kangaroo Valley Broadband Network will be a fast & low latency network, making it suitable for internet delivered tv and it'll be solar powered ... a robust network not affected by electricity blackouts or multiple layers of other providers. It will only cover the Kangaroo River catchment so it will remain small with a member of our community (with skin in the game) in charge and accountable - no call centre queues and fast friendly service.
The KVBN Plan
In order to build the ten towers we needs in the Valley, KVBN needs 120 subscribers to sign up for an early-bird pre-sale.
These early adopters will be Gold Star Members for life. Gold Star Membership will cost $1000 and will include:
Radio, antenna, router with WiFi and VOIP if required
Antenna mount and cabling
Professional installation by a licensed electrician
3 months unlimited broadband at 25Mbps
Gold Star member's discount for life
(e.g. free upgrade of speed tier or data allowance at $95 per month)
Who's in?
Make a pledge for $1000 to be an inaugural Gold Subscriber of KVBN.
You can make your pledge on the KVBN Crowdfunding Page.
We're aiming for at least 120 subscribers to make their pledges but 180 to 220 is optimum.
For more information call John Sinclair 0408 864 262 or Peter Botsman 0414 218 469.
Or email John at john@gungaru.net.au